I've been thinking a lot about the concept of control lately, especially as it relates to my own desire for control over the situations and people in my life. Like anything new that I learn, the concept keeps smacking me over the head everywhere I go, in books and posts that I read, in conversations I have, and in messages that I listen to. In other words, this post has been a long time coming.
As a non-diet dietitian, I consistently encounter people who are rigidly managing their diet, weight and exercise in the name of health. But if we're honest with ourselves, a lot of our "healthy habits" are just another way to get our control fix.
Many of us are terrified of releasing this control—we're afraid of what it might say about us. We're afraid it means we're giving up on our health, happiness, identity, etc.. But the opposite of control is not giving up—it's trust.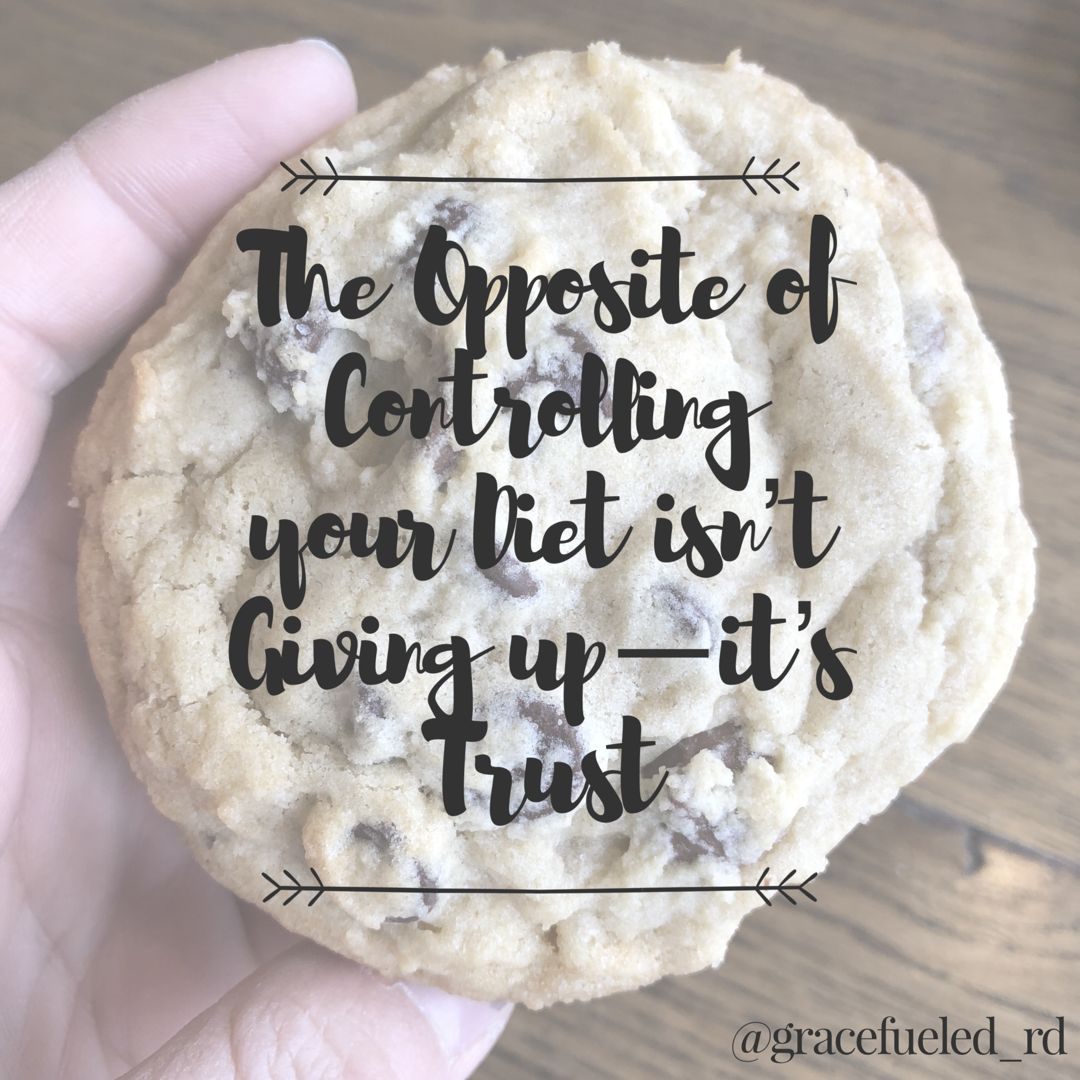 What we're essentially saying when we seek control is," I don't trust that I can be happy, healthy, well-adjusted without micromanaging this thing." Sometimes it's "I don't trust my body or my intuition to have my best interest." But other times, it has nothing to do with our physical health. Maybe it's, "I don't trust this challenging situation to turn out for good, so I'm going to try controlling these other areas of my life."
The beauty of intuitive eating is that is helps us foster trust in our body and in our selves. Often, this let's us see other areas of life where we're attempting to have control. It gives us permission to start trusting for more than just our body's physical appearance. It gives us an opportunity to exercise our faith in new ways.
So if you're tired of constantly controlling what you eat and how you move, know that it's okay to stop. You aren't giving up on health; you're giving up on a false illusion and hopefully, trading it in for trust and a simpler way of living. If this sounds like something you'd like to do but need some help with, I'd love to work with you. Head on over to the nutrition counseling page to check out my services or contact me to set up your free discovery call.
For all the scary uncontrollable areas of life, the good news is that if you trust in Jesus Christ, He promises to work all things for your good. In my own experience, even when I wasn't able to see it, He has always had a good plan for me. His control has always been better than mine, and faith has always produced more than my own forced efforts.
"Come to me, all you who labor and are heavy laden, and I will give you rest" Matthew 11:28